The Fresh Fish & Seafood Market at Dave's
Preparation and Cooking
Fish and Food Safety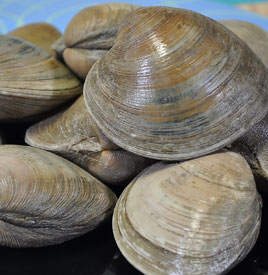 Always marinate fish in the refrigerator, never at room temperature.
If you see "PUFI" on the package, you know the fish has been "packed and processed under federal inspection," with an inspector present.
Clams that don't open when steamed or boiled are dead, and most likely contaminated. Throw them away!
The safest and best eating fish are aquaculture raised Trout and Catfish, Halibut, Turbot, Skipjack, Sole and Pollack.
Cooked crab shells should be bright red in color and have little or no odor.
Preparing Fish and Seafood
Thaw frozen fish in milk. It replaces that frozen taste with a "fresh caught" flavor.
Don't thaw frozen fish completely before cooking, to prevent it from becoming dry or mushy
Never keep a shellfish in fresh water. It quickly kills them.
Frozen fish can be skinned easier than fresh fish.
Soak oysters in club soda for about five minutes to make them easier to remove from the shells.
To de-vein shrimp, hold it under a slow stream of cold water, running the tip of an ice pick down its back.
Avoid making shrimp tough by first cooling under very cold water for one or two minutes.
Cooking Tips
Always cook fish at a low to moderate temperature (no more than 350°) to keep it moist and tender.
To prevent sticking when frying fish, sprinkle the bottom of the pan with a little salt or use unsalted butter.
Making clam chowder? Don't add the chopped clams until the last 10 minutes of cooking, and they won't be mushy or tough.
Add a little grated onion to the butter when cooking fish, for great flavor!
Wrinkle up the tinfoil before you put fish on it or wrap fish in it, to bake in the oven. The fish will brown better, with no sticking.
Learn more about the Seafood Market at Dave's
Partners at Our Seafood Shacks
The Town Dock, Galilee, RI
American Mussels Harvesters, North Kingstown, RI
Boston Sword & Tuna, Pt. Judith, RI fishing boat
Kyler's Catch Seafood Market, MA
Machia's Bay Maine Steamers, ME
Newport Lobster, RI
Point Judith Fisheries, RI
The Boston Seafood Market
The Iron Lady, RI fishing boat
The Iron Maiden, RI fishing boat
The Karen Elizabeth, RI